Releasing in paperback!
Thanks to TLC Book Tours and Kensington Books for the copy in exchange for my honest review!
THE GIRLFRIEND – Michelle Frances (Releasing January 30th, 2019!)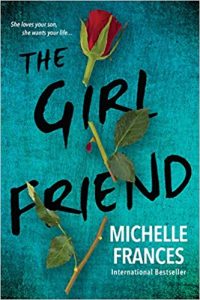 Book Description:
A mother. A son. His girlfriend. And the lie they'll wish had never been told.
Laura has it all. A successful career, a long marriage to a rich husband, and a twenty-three year-old son, Daniel, who is kind, handsome, and talented. Then Daniel meets Cherry. Cherry is young, beautiful and smart but hasn't led Laura's golden life. And she wants it.
When tragedy strikes, a decision is made and a lie is told. A lie so terrible it changes their lives forever…
The Girlfriend is a taut and wickedly twisted debut psychological thriller—a novel of subtle sabotage, retaliation, jealousy and fear, which pivots on an unforgivable lie, and examines the mother–son–daughter-in-law relationship in a chilling new light.
My Thoughts: 3.5/5 stars!
Not only does this have a great cover, but I always love a great domestic and psychological thriller! THE GIRLFRIEND is a great debut for Michelle Frances. This was more on the lighter side of the thriller genre, but I thoroughly enjoyed the read.
Laura Cavendish is so excited to finally meet the woman that has stolen her son's love. Even with her successful television career and happy marriage, her main focus in life is her son, Daniel. She's hopeful that Cherry, the woman that has won his affection, could become a close friend and maybe one day, her daughter-in-law.
After meeting Cherry, Laura is concerned. She can't seem to warm up to Cherry. There's something about the possessiveness towards her son and Laura can't help but feel that she's lying to her and Daniel. After Daniel is in a horrible accident that has left him in a coma and near death, Laura carries out an unbelievable lie that she thinks won't be found out. This has left Cherry homeless, jobless, and without the man she transformed herself for. After learning about Laura's deception, Cherry has made it her mission to become Laura's living nightmare.
Both Cherry and Laura were those characters that you love and hate. Cherry is incredibly manipulative and self-absorbed, while Laura lives in her fantasy world that causes her to make some awful judgement calls. While the ending was more predictable it was still a very entertaining read. If you want a good cat and mouse suspense between two women trying to out-smart the other, then this will be one you'll definitely enjoy!
Overall, this falls under the more character driven suspense novels. So if you're one that likes getting into the characters' minds then this would be a great one to pick up. I will be looking for more from Michelle Frances in the future. Again, a solid and entertaining debut!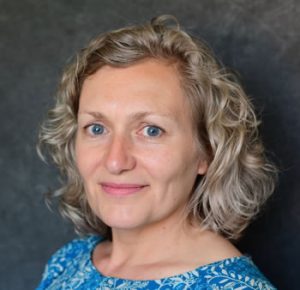 About the Author:
Michelle Frances graduated from Bournemouth Film School in 1996 and then from the Masters program at the American Film Institute, Los Angeles, in 1998. Returning to London, she has worked in film and TV for 16 years as a script editor and producer. She is currently Head of Development at BBC Wales Drama, producers of Doctor Who, War and Peace and Sherlock. She works across a number of in-house shows and also oversees book adaptations. The Girlfriend, her debut psychological thriller, has been optioned by The Imaginarium Studios and translation rights have sold in nine foreign territories.
Connect with Michelle
Where to Purchase a Copy:
Amazon | Books-A-Million | Barnes & Noble